This starts a series of 5 blogs from MSBA student Neil Watson who worked the TED convention this year in Long Beach, CA. You will find this insider view fascinating and informative.
Five Lessons (Re-)Learned in a Day at TED – Part 1
TED2013 Poster
For those of you not familiar with TED, they are an organization committed to "ideas worth spreading."

They do this through three annual conferences and several programs designed to generate, spread, and foster action on ideas from the world's best thinkers.

Spend a few minutes on their website (ted.com) and you'll get a sense for what they do.
Two weeks of sunny weather set the stage
for a great time applying
MSBA lessons in a real world
environment.
Last month, I was hired by TED to consult at their annual flagship conference in Long Beach, California.

One of the wonderful things about this opportunity was that it gave me an unparalled opportunity to apply many of the lessons I have been learning in the MSBA program in a real world setting.

Each and every day of the conference was filled with moment upon moment to take something away.
One day in particular, though – the first day of the conference – stands out in my mind and I'd like to share some of those lessons with you in a brief series of blog posts.
Lesson One: No task is too big or too small
No task too big or too small. Here
my team helps install a sculpture
in the main lobby.
There is no doubt that the MSBA program challenges you to take on some the world's biggest

problems.

The professors and administrators accept nothing less than your best effort and they help you along every step of the way to achieve what sometimes is seemingly impossible.

So, when I went to TED, I was prepared to take on the big challenges.
Sure enough, that Monday presented many opportunities to think critically and help conference attendees in big ways.

A perfect example was when one attendee – a notable venture capitalist – came up to me just before lunch and showed me his iPhone.

On it were two logos for the same company.

"Here," he said.

"We're investing a couple million in this company and we need to have a logo picked by noon.

Which do you think is better and why?"

A few minutes of discussion about branding and marketing (much of which was learned in Prof. McHie's Marketing with Integrity course), we had a logo picked.

As of writing this post, the logo I helped pick is up on the company's website.
In addition to the many big tasks, though, there were the small tasks that allowed me to put into action a principle that gets a lot of lip service in others b-schools, but is put front and center in the MSBA program.

That is the idea of service.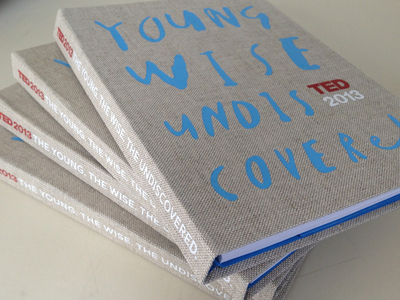 TED provided a perfect setting to serve not only in big ways, but in small ways.

It reinforced the idea that even the little things – from picking up trash off the floor to opening mints for attendees to smiling at a team member having a bad day - no task is too small or too menial to be beneath you.

Besides, you never know which A-list celebrity or high-powered entrepreneur or boss might be watching, ready with kudos for a job well done. At the end of the day, we're all here to serve one another and that means remembering that no task is too big or too small.
You have to be ready for anything at TED – even if it's not
covered in the Handbook (shown ab
ov
e).
MSBA Candidate
Class of 2013